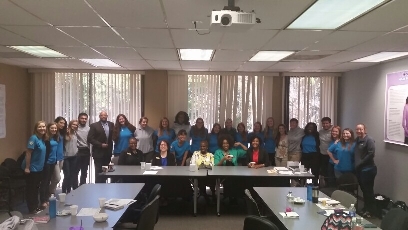 AmeriCorps Members Visited By E3
North Florida - Jacksonville: Over 20 young adults from AmeriCorp were visited on April 5, 2016 by members of E3. Joined by Ms. Natalie Hall, Economic Development Specialist & Veteran's Representative SBA-North Florida District Office were Mrs. Ceandra Dilley (Inspire For Purpose), Mrs. Sequoyah Lindsey-Taylor (ASE Wellness), Ms. Colleen Dedenbach (Medicaid Assist Services of NE Florida) and Traci Irven (Team 1 Service). The women participated in a panel dialogue on entrepreneurship and advocacy. The dialogue was moderated by E3 National Director & Founder Anthony Butler, Sr.
The event was inspired by members requesting a speaker on entrepreneurship. AmeriCorp member Monica Adelphonse was pointed to Mr. Butler by the Northeast Florida Healthy Start Coalition where he sits on the board. Upon hearing their needs Mr. Butler worked with Ms. Adelphonse to create the customized visit. "To have entrepreneurs who care enough about our future leaders to give their time and talents speaks to their character and spirit." commented Butler "Its why E3 continues to set the standard as an entrepreneur group nationally."
The dialogue was well received with entrepreneurs and AmeriCorps members making connections and sharing goals and dreams. E3 gave a challenge for feedback and awarded scholarships for its So You Want To Be An Entrepreneur class to Ms. Adelphonse, who has a vision for helping other health organizations better operate and take advantage of available resources and Ms. Naga Wasserman who has dreams of opening a physical therapy practice which helps all people with access to quality care.
E3 provides outreach opportunities to its members to help promote their businesses and support their passions. For more info email support@e3businessgroup.us.